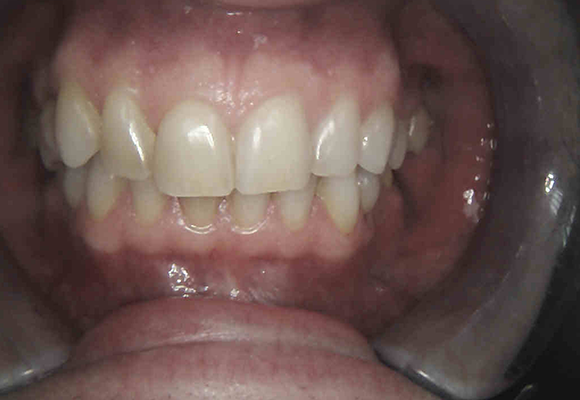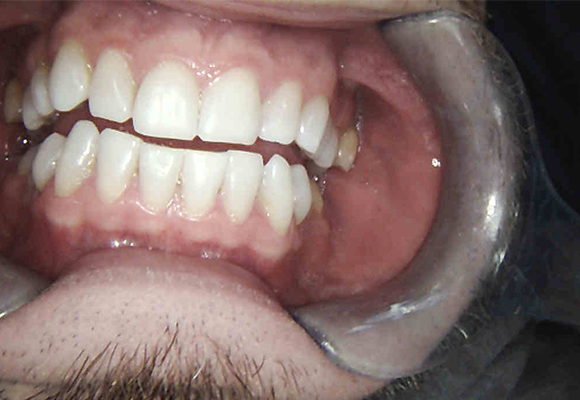 Teeth whitening can be a great way of improving your smile and confidence. You can achieve fantastic results at a cost of just €200. See below for some results photos of a patient of ours here at South Dublin Dental.
How do I get dental Whitening?
It is important you check with your dentist whether you are suitable for whitening. A thorough check of your gums and current fillings/crowns is needed to check whether whitening is an appropriate treatment for you. In the EU it is illegal for whitening treatment to be prescribed or carried out by anyone other than a registered dental professional.
At South Dublin Dental we do a free whitening consultation. At this appointment after discussing the treatment with you, if you are suitable for the treatment we will then take impressions (moulds) of your teeth. With these moulds the laboratory will make models of your teeth on which they fabricate custom fit mouth trays which will deliver the whitening gel exactly to the right areas of your mouth.
Once we get the trays back from the dental lab we have another appointment where we show you how to wear the trays and load them with the whitening gel. The tray and gel system will then need to be worn for two consecutive weeks to achieve the desired whitening result. We have two types of gel, one that is worn for half an hour during the day or one that is worn at night while sleeping, which system you use is up to you.
How does the whitening work?
The whitening agent penetrates the enamel and whitens the tooth below the outer surface by an oxidation reaction.
Is whitening harmful to my teeth?
No. Dental whitening is not harmful. While actively undergoing the whitening treatment the enamel is made slightly porous during the two weeks of treatment. Within a couple of days of finishing the treatment the enamel structure remineralises and returns to normal. Certain food and drinks such as currys and red wine need to be avoided during the two weeks.